Tan Son Nhut Association
2009 Reunion, MIA Ceremony
Pigeon Forge, Tennessee

by: Rich Carvell
October 17, 2009
Copyright © 2009
I have taken several photographs at the Tan Son Nhut Association,
2009 Reunion, located in Pigeon Forge, Tennessee, October 17, 2009.


This was accomplished at the MIA Ceremony, in the banquet hall.


The MIA reading was done by Trish Plunkett and Johnnie and Sharon
Jernigan set the MIA table, in conjunction with the reading.


I wish that all of you could have been there to see how beautiful it was.


Thank You, to all who attended this special event.
1. This table is set for the members of our military that are missing
from our midst. These missing brothers and sisters may be absent
because they are prisoners of war, missing in action, being held
hostage or because they have made the ultimate sacrifice to keep
us free. They are unable to be with us, so we remember them and
their circumstances.
2. The table cloth is white, symbolizing the purity of their intentions
in responding to their country's call so their children could remail free.
3. The one candle symbolizes the frailty of one
individual - alone, against his oppressors.
4. The black ribbon on the candle reminds us
of those who will not be coming home.
5. The single rose, in the vase, reminds us of the families
and loved ones that keep the faith, awaiting their return.
6. The rose itself is red, signifying the blood shed by our comrades
in the defense of freedom. They are not with us today.
7. The red, white and blue ribbon is tied to the vase by a yellow
ribbon, reminiscent of the ribbons worn on the lapels and breast
of thousands who bear witness to their unyielding determination
to demand a proper accounting of our missing and for the safe
return of those held hostage or engaged in our defense.
8. The place setting is for one, but represents all who could not be
with us.
9. A slice of lemon is placed on the plate to remind us of their bitter fate.
10. There is salt on the plate, symbolic of the family's tears as they
wait and remember.
11. The word "Hero" is written in the grains – because "Hero" is
what each man and woman becomes when they serve America.
12. The glass is inverted to remind us that they will not be here tonight.
13. The picture on the table is a reminder that they are missed very much...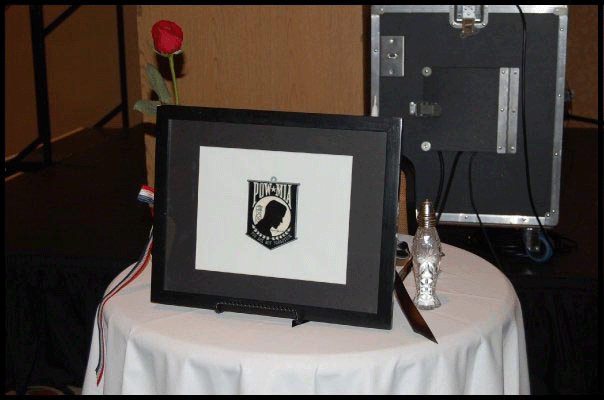 14. ... and are rememberd by their family and friends.
15. The chair is empty, signifying their absence and our constant
hope that they will return to us some day.
16. It is tilted to signify that when they do return there will be and
always has been a place set aside for them in our hearts and minds.
17. As we look upon this empty table, do not remember them as
ghosts from the past, but remember them as our comrades and
friends. Do not neglect their families but keep them close to your
heart. Please continue to honor those missing from our midst.