Tan Son Nhut Association Attendee's, Jun 12 - 15, 2014, Evansville, IN
Current Photograph
Military Information
Andy Agan
1876th Communications Squadron
April 1966 - April 1967
Danny and Martha Bell
460th AEMS Sq, INS/FLR
August 1968 - August 1969
Carol and John Bessette
Headquarters, 7th Air Force
April 1968 - May 1969
George and Georgette Bontya
377th Civil Engineer's Squadron
October 1969 - February 1971

Golden Knight Award, Jun 13, 2014
Nigel Brooks
HHC Special Troops, U.S. Army
August 1966 - February 1968
Randall and Rita Brown
OL1508 Postal and Courier
January 1967 - February 1968
Dale Bryan
Detachment 2, 30th Weather Sq
May 1967 - May 1968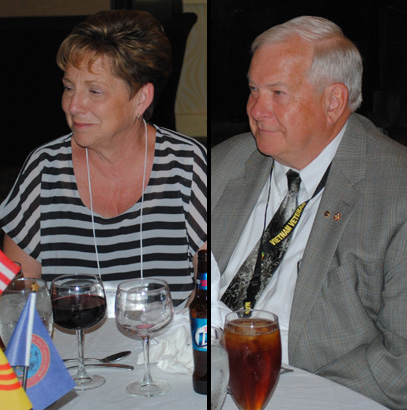 Bernard and Margaret Bucholz
1876th Communications Squadron
February 1967 - February May 1968
Michael and Karen Cain
377th Security Police Squadron
November 1967 - November 1968
Rich and Sue Carvell
12th Reconnaissance Intel Tech Sq
June 1970 - Jun 1971

Recipient Military Order of the Dragon, Jun 2014
Bob and Bobbi Chaffee
Base Chaplain
September 1968 - September 1969
Bill Coup
460th Tactical Recon Wing
1965 - 1966
1970 - 1971
Andy and Rena Csordas
Special COMSEC Support Det
June 1970 - December 1970

Golden Knight Award, Jun 13, 2014
Marvin and Linda Debolt
US Army
Processing troops in/out of country
September 1966 - August 1967
Mike and Judy DeTuccio
377th Air Police Squadron
November 1965 - October 1966
Angela Duncan
Daughter of Robbie Robertson

Zach Evans
Newspaperman
Evansville Courier Press
Jim and Jan Faulkner
OL1508 USAF Pacific Postal and Courier Region
NCOIC, Inbound Mail
March 1967 - March 1968
Gary Fields
377th Civil Engineer Squadron
February 1969 - February 1970

Elected to the Board of Directors:

Director At Large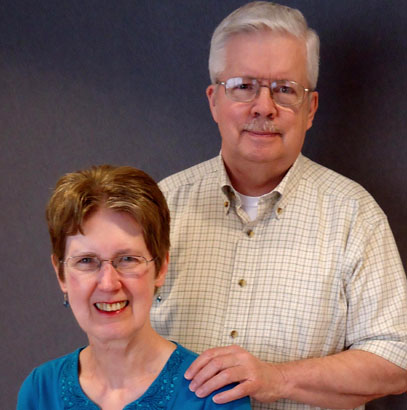 Larry and Lois Fry
Detachment 8, 2nd ADVON
December 1961 - March 1962

Re-Elected as a Director of Membership.
Debbie Gard
Wife of Dean Gard
Doris Hays, Mother of Debbie Gard

Ron Gardner
Sandra Butterworth
1876th Communications Squadron
Weather Relay Comm Center
July 1968 - July 1969
Benny Goodman
8th Aerial Port Squadron
Air Cargo Specialist
1963 - 1964

Anchor Award, Jun 13, 2014
Harlan and Carolyn Hatfield
460th Armament and Electronics Maintenance Squadron
January 1967 - January 1968
Joe Ingram
Headquarters, 2nd Air Division
Air Operations Center
January 1964 - Jan 1965
Garry Jeffries
U.S. Army HHC
HHC Special Troops
September 1966 - November 1969
Johnnie and Sharon Jernigan
460th Armament and Electronics Maintenance Squadron
Navigation Shop
February 1966 - February 1967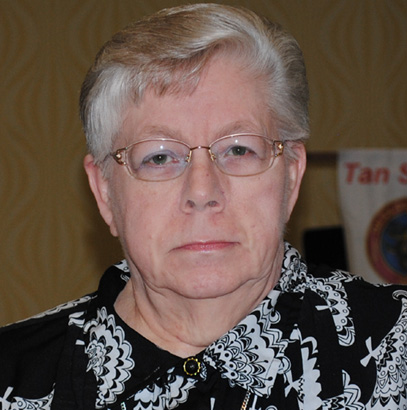 Janice Jones
Sister of Charles Penley
Kingsport, Tennessee
Scott Jones
Nephew of Charles Penley
Kingsport, Tennessee
Joe Kricho
1876th Communications Squadron
December 1967 - December 1968
Bob and Gayle Laymon
377th CAMS
Scatback T-39, Crew Chief
September 1971 - September 1972
Gary Munoz
7th Air Force / 13th Air Force
Scatback, SEFE Pilot
T-39 Aircraft Group
May 1972 - May 1973
Kerry and Margaret Nivens
377th Support Group, POL
December 1966 - December 1967
Don and Sue Ellen Parker
360th Tac Electronic Warfare Sq
October 1967 - October 1968
Lynn and Linda Patton
377th Security Police Squadron
January 1971 - January 1972
John and Michelle Peele
460th Field Maintenance Sq
November 1969 - November 1970
Charles Penley
377th Air Police Squadron
October 1967 - July 1969
Eddie Phipps
3rd Marine Division
February 1968 - August 1969

Nephew of David Stringer
George and Trish Plunkett
1st Mobile Communications Group
TDY: July 1962 - July 1963
October 1966 - April 1967
Gary and Diana Redlinski
US Army Mortuary
Graves Registration
ID Specialist
May 1968 - July 1970
Gary and Elaine Reynolds
600th Photo Squadron
August 1968 - August 1969
Robbie Robertson
1964th Communications Squadron

Anchor Award, Jun 13, 2014
Wolfgang and Joan Samuel
Guest Speaker
A Prolific author, he has written seven books.

His life story entitled, "German Boy" is a saga of enduring fortitude and courage.
Nat and Dolores Sisco
OL 1500 USAF
Postal and Courier Service
December 1968 - December 1969
John and Cheryl Skorupski
460th AEMS
RF-4C Electronic Maintenance
Forward Looking Radar

Jimmy and Carla Rose Smith
OLAA, Det. 2
15th Aerial Support Squadron
Quinhon Army Airfield, Air Freight
January 1968 - January 1969
Michael and Janet Spencer

J. Terry and Phyllis Stinson
David Stringer
31st ARRS
39th ARRS, 20th MAS
776th TAS, Aircraft Loadmaster
July 1968 - April 1975
Wesley Sullivan
Test
test - test
Chuck and Barb Templeton
377th Security Police Squadron
October 1968 - November 1969
Robert Warren
834th AD, Det. 1
377th CAMS
Aircraft Electrical Repairman
September 1970 - June 1972
David and Beverly Webster
377th Air Police Squadron
November 1965 - October 1966
Bobby and Jane White
1884th Comm Squadron
Communicaton/C-130 Pilot
March 1967 - March 1968
Earnest and Marilyn Wymer
377th Air Police Squadron
November 1965 - November 1966
Kristin Comer
Administrative Assistant
Vanderburgh County Commissioners

Ms Comer was the go to person, from Vanderburgh County Officials.
Miss Jennifer Kinney
Musical Accompanist, Key Board
Evansville Children's Choir
Mr Aidan Allen
Evansville Children's Choir
Miss Sarah Webber
Evansville Children's Choir
Miss Elle Allen
Evansville Children's Choir
Miss Elyzabeth Morris
Evansville Children's Choir
Mr Joseph Kippes
Evansville Children's Choir
Miss Joan Nevill
Evansville Children's Choir
Music Director
Cadet LTC Vince Goodrich
William Henry Harrison, High School
Color Guard, June 13, 2014
Cadet SFC Elexus Beppler
Color Guard
From various high schools
Evansville, IN
June 13, 2014
Cadet SFC Dalton Schmitz
Color Guard
From various high schools
Evansville, IN
June 13, 2014
Cadet SSgt Tanner Ringham
Color Guard
From various high schools
Evansville, IN
June 13, 2014
Cadet Sgt James Partlee
Color Guard
From various high schools
Evansville, IN
June 13, 2014
Cadet Cpl Timothy Schmitz
Color Guard
From various high schools
Evansville, IN
June 13, 2014
PV2 Donovan Jones
Color Guard
From various high schools
Evansville IN
June 13, 2014
US Army SFC William VanHooks Jr.
Evansville, IN
Vanderburgh School District
Junior ROTC Instructor
June 13, 2014
Julie Stodghill
Monumental Memories
Monumental Memories
1700 East Morgan Avenue
Evansville, IN
June 13, 2014
Michael Stodghill
Monumental Memories
1700 East Morgan Avenue
Evansville, IN
June 13, 2014