Tan Son Nhut Association Attendee's, May 28 - 31, 2015, Pigeon Forge, TN
Current Photograph
Military Information
Andy Agan and Vicky Brenes
1876th Communications Squadron
April 1966 - April 1967
Bob and Linda Allscheid
377th Supply Squadron
October 1967 - January 1969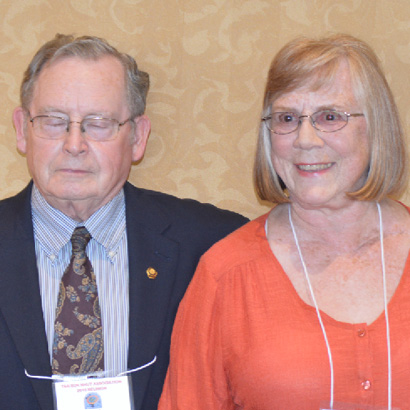 Eric and Patricia Arentz
377th Security Police Squadron
March 1971 - March 1972
Jimmy Avera
1876th Communications Squadron
June 1971 - January 1972
Dale and Maxine Baker
Det 1, 460th Tactical Reconnaissance Wing, Scatback T-39
1968 - 1969
Joseph and Patricia Balch
1964th Communications Group, Air Traffic Controller, Ground Control Approach
November 1963 - November 1964
Danny and Martha Bell
460th AEMS Sq, INS/FLR
August 1968 - August 1969
Gary and Dorendia Bird
377th Security Police Squadron
January 1972 - January 1973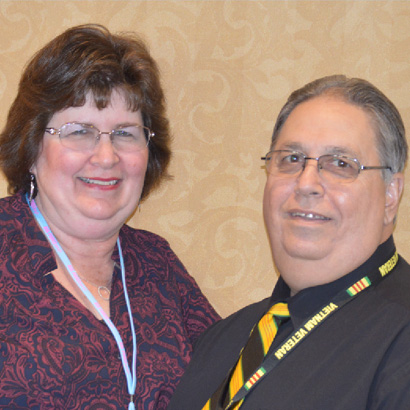 George and Georgette Bontya
377th Civil Engineer's Squadron
October 1969 - February 1971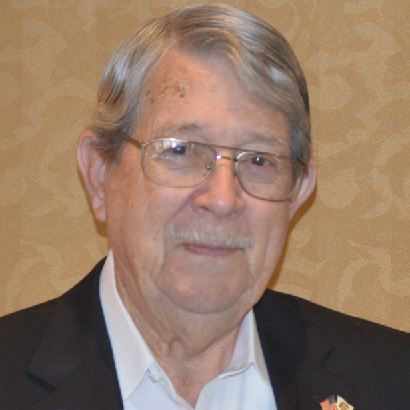 Vernon Brantley, Honored Guest

Member of America's Greatest Generation.

Native of Kentucky, who now lives in central South Carolina.

He arrived in Europe in 1944, just in time to participate in the Battle of the Bulge, where he was wounded.

He saw further combat in Holland.

His awards include:

The Bronze Star
The Purple Heart
The European Operations Award, with three battle stars
Randall and Rita Brown
OL1508 Postal and Courier
January 1967 - February 1968
TSNA President Randall Brown
Dale and Judy Bryan
Detachment 2, 30th Weather Sq
May 1967 - May 1968
Bernard and Margaret Bucholz
1876th Communications Squadron
February 1967 - February 1968
Bill and Linda Burney
346th Troop Carrier Squadron
(TDY from Pope AFB, NC)
January 1962 - May 1962
Dennis and Sally Byrnes
69th Sig BN, USA

Rich and Sue Carvell
12th Reconnaissance Intel Tech Sq
June 1970 - Jun 1971
Bob and Bobbi Chaffee
Base Chaplain
September 1968 - September 1969
Wayne Conner
69th Signal BN
Richard and Brenda Cooley
Det 1, 460th Tactical Reconnaissance Wing, Ground Crew
RB-57E "Patricia Lynn"
January 1968 - January 1969
Bill Coup
460th Tactical Recon Wing
1965 - 1966
377th Civil Engineering Squadron
1970 - 1971
Andy and Rena Csordas
Special COMSEC Support Det
June 1970 - December 1970
Don and Debbie Dabbs

Sue Dauber


Mike and Judy DeTuccio
377th Air Police Squadron
November 1965 - October 1966
Walter Duke Jr.
3rd Radio Research Unit, 224th Aviation BN. RR., Army Aviator and Aircraft Maintenance Officer
June 1965 - June 1966
Angela Duncan and Robbie Robertson
Father and Daughter
1964th Communications Squadron
January 1963 - December 1963
Tom and Joyce Earnest
377th Combat Support Group
February 1967 - February 1968
Jim and Jan Faulkner
OL1508 USAF Pacific Postal and Courier
Region NCOIC, Inbound Mail
March 1967 - March 1968
Gary Fields
377th Civil Engineer Squadron
February 1969 - February 1970
Ralph and Dona Fox
616 MAC, Jet Engine Mechanic
August 1967 - May 1968
Larry and Lois Fry
Detachment 8, 2nd ADVON
December 1961 - March 1962
Commander Paul Galanti

Our Honored guest speaker is retired Naval Aviator.

Awarded:

The Silver Star

The Bronze Star with "V" for Valor

Multiple awards, Legion of Merit with "V" for Valor

The Air Medal

The Purple heart to name just a few of his awards.

He was a POW in North Vietnam, for nearly seven years.
Joeseph L. and Dr. Grace Galloway

Joseph L. Galloway is one of America's Premere War and Foreign Correspondents, for the past fifty years.

He is the Co-Author, "We Were Soldiers Once And Young."

While reporting from the Battle of the Ia Drang Valley, he repeataly rescued wounded American Soldiers who were under fire.

For these actions, he was awarded the Bronze Star, with "V" for Valor device.

He was the only civilian to receive a Medal of Valor, during the entire Vietnam War.

He is one of US!
Doris Hays, Mother of Debbie Gard

Debbie Gard
Wife of Dean Gard
377th Services Squadron
Ron Gardner and Sandra Butterworth
1876th Communications Squadron
Weather Relay Comm Center
July 1968 - July 1969
Benny Goodman and Gabriella Grant
Father and Daughter
8th Aerial Port Squadron
Air Cargo Specialist
1963 - 1964
Charles and Georgia Gray
377th Security Police Squadron
March 1967 - March 1968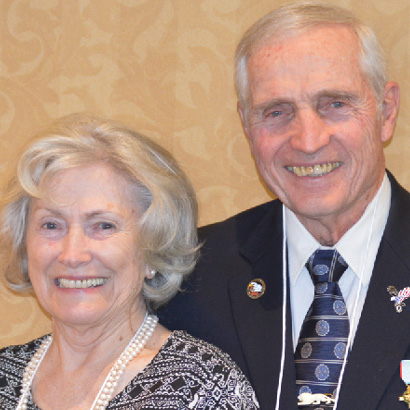 James and Barbara Harding
Commander, 1st Special Operations Squadron

Heyward and Gloria Hill
8th Aerial Port Squadron, Line Loading
July 1970 - July 1971
Sheila Howard and Pat Johnson


Johnnie and Sharon Jernigan
460th Armament and Electronics Maintenance Squadron
Navigation Shop
February 1967 - February 1968
Janice Jones
Sister of Charles Penley
Kingsport, Tennessee
David and Sheila Karmes
405th Fighter Wing, Det. 1 33rd CAMRON
June 1964 - May 1965
Joe Kricho
1876th Communications Squadron
December 1967 - December 1968
John and Jean Kuhaupt
12th RITS, Photo Recon (Lab)
July 1967 - July 1968
James and Linda Lane
314th TCW
September 1965 - December 1965
Bobby and Louise McCasland

Joseph McGarrah
Friend of Don and Sue Ellen Parker
Jennifer McKnight (wife of) and Karen Edwards (mother of)

CPL Robert W. McKnight, USMC
Johnson City, TN
Operation Iraqi Freedom, KIA June 7, 2013

Both ladies are "Honored Guests."

****************************************************************

CPL Robert McKnight was in Lima Co 3/24 a Marine Reserve Infantry Battalion out of Johnson City, TN.

Robert's heart and soul was with Lima Co and the Marine Corps.

He joined the Marine Corps in 2001 after 9/11 and served until 2007.

Robert's battalion was activated in January 2004 to November 2004 for Operation Iraqi Freedom.

He was an outstanding Marine and an inspiration to many.

In 2004 he received the award of Marine of the Year out of his entire battalion.

Robert also received the following medals and awards: Armed Forces Reserve Medal Mobilization Device "M", Sea Service Deployment Ribbon, Combat Action Ribbon, Meritorious Mast, Global War on Terrorism Expeditionary Medal and Global War on Terrorism Service Medal.

Robert passed away June 7, 2013 from service connected injuries and illness from his military service in Iraq.
George and Susan Miller
377th Combat Support Group
October 1968 - September 1969
Joe and Lucille Montag
8th Aerial Port Squadron
October 1967 - October 1968
Gary and Susie Munoz
7th Air Force / 13th Air Force
Scatback, SEFE Pilot
T-39 Aircraft Group
May 1972 - May 1973
Ed and Brenda Murphy


Kerry and Margaret Nivens
377th Support Group, POL
December 1966 - December 1967
Daniel Ortner
1876th Communications Squadron, Communications Specialist
September 1968 - August 1969
Stephen Parella, Honored Guest

Former US Army Captain
Served four tours in Afganistan
Retired after twenty-six years of service
Earned two Master's of Science degree's from the University of Tennessee

Specializes in Trama and Post Traumatic Stress Disorder

Currently works at the VA Knoxville Vet Center, as a readjustment counciling outreach co-ordinator.

He is one of US!
Jennifer Parker McGarray (Daughter of)
Sue Ellen Carnahan Parker (Wife of)

Don Parker
360th Tac Electronic Warfare Sq
October 1967 - October 1968
Lynn and Linda Patton
377th Security Police Squadron
January 1971 - January 1972
John and Michelle Peele
460th Field Maintenance Sq
November 1969 - November 1970
Charles Penley
377th Air Police Squadron
October 1967 - July 1969
Hugh and Kathy Penn
633rd Combat Support Group, CBPO
February 1969 - January 1970
Eddie Phipps
3rd Marine Division
February 1968 - August 1969

Nephew of David Stringer
Tim and Margaret Plemmons
377th Security Police Squadron
January 1970 - December 1970
George and Trish Plunkett
1st Mobile Communications Group
TDY: July 1962 - July 1963
October 1966 - April 1967
Shawn, Beth and Melissa Reilly


Harold Saden
1876th Communications Squadron
Comm Ops Officer
March 1969 - March 1970
Tobey Salisbury
Wife of Wayne Salisbury
7th Air Force (DM)
October 1966 - September 1967
Patrick Santell
HQ 7th Air Force and 600th CFS
December 1965 - September 1966
Nat and Dolores Sisco
OL 1500 USAF
Postal and Courier Service
December 1968 - December 1969
John and Cheryl Skorupski
460th AEMS
RF-4C Electronic Maintenance
Forward Looking Radar

Jimmy Smith and Carla Rose
OLAA, Det. 2
15th Aerial Support Squadron
Quinhon Army Airfield, Air Freight
January 1968 - January 1969
Jerry and Judy Sommerfeldt
377th Security Police Squadron
October 1967 - January 1968
Michael and Janet Spencer
Tuy Hoa, 31st TFW, 309th TFS
December 1966 - December 1967
David and Senny Stringer
31st ARRS
39th ARRS, 20th MAS
776th TAS, Aircraft Loadmaster
July 1968 - April 1975
Mike Swift
377th Combat Support Group, Postal Operations/Augmentee with 377th Security Police Squadron
April 1967 - April 1968
Chuck and Barb Templeton
377th Security Police Squadron
October 1968 - November 1969
Larry and Jan Tharp
Guests of the Patton's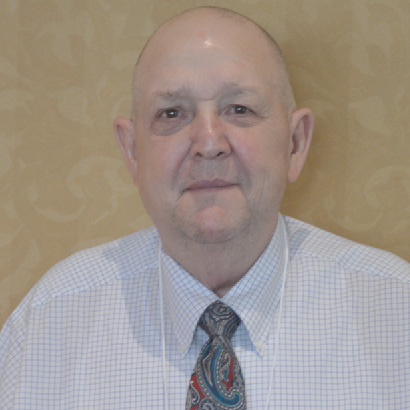 Marvin Thurman
377th Combat Support Group, CBPO, Machine Accounting
March 1967 - March 1968
Tony and Amy Tidwell
460th Field Maintenance Shop (AGE Shop)
February 1971 - February 1972
Joseph and Jerri Torolski
377th Security Police Squadron, Joint Defense Operations Center
Central Security Control
June 1972 - March 1973
Clayton and Katheryn Walden
US Army
69th Signal Battalion
David and Beverly Webster
377th Air Police Squadron
November 1965 - October 1966
Bobby and Jane White
1884th Comm Squadron
Communicaton/C-130 Pilot
March 1967 - March 1968
Dennis Allyn
Videographer
For many people the Registration Table, is the first stop for the reunions.

Chaplain Bob Chaffee is in the process of registering "Life Member Toby Salisbury."
Registration Table center piece, made by Larry Fry
TSNA Members at the briefing prior
to the unveiling of the "Memorial Bench."
View of the Tennessee and North Carolina Mountains.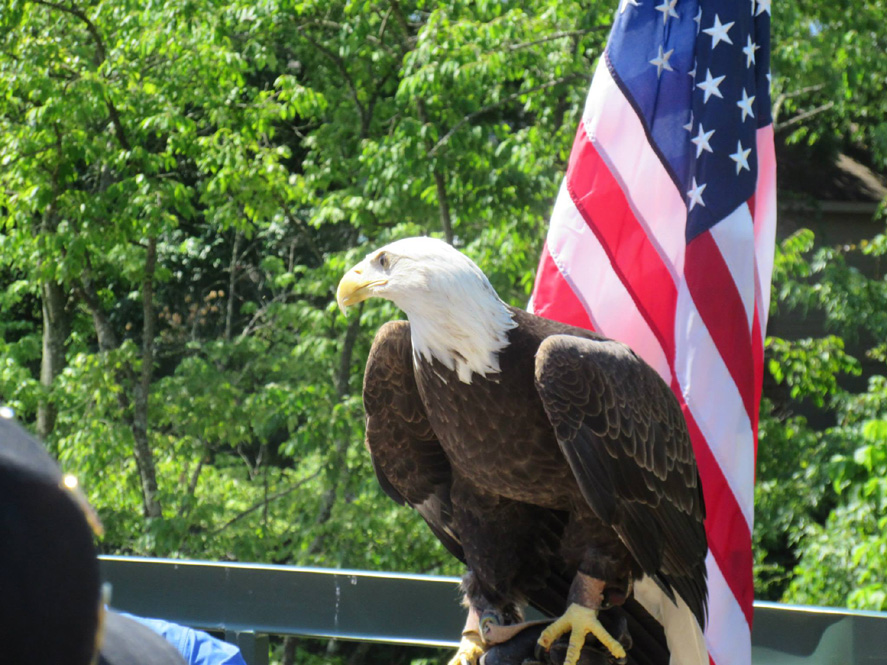 The American Bald Eagle is present and accounted for at the
presentation of the "TSNA Bench Memorial," in Pigeon Forge, TN.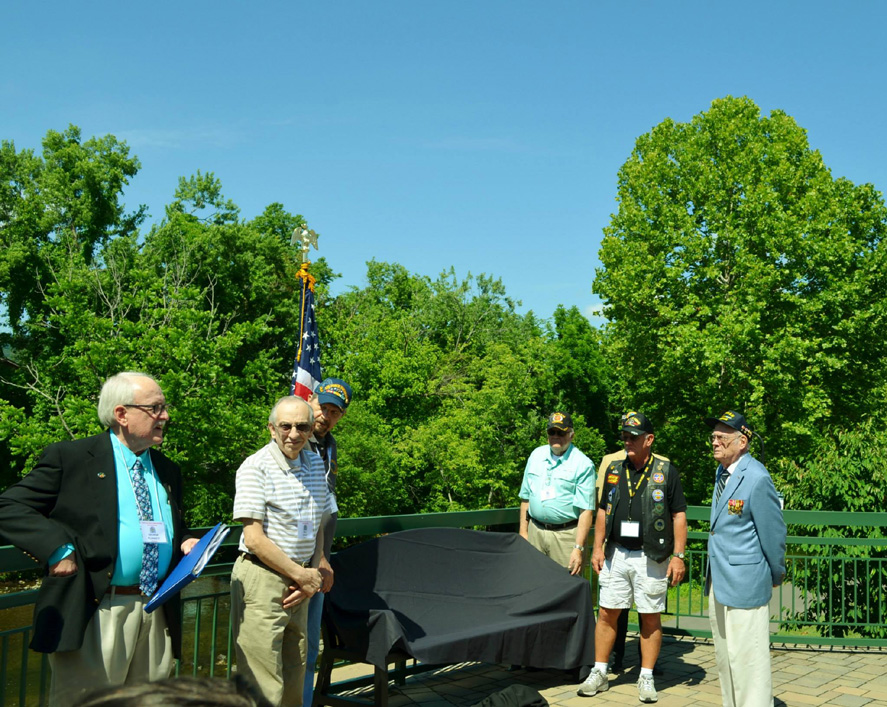 The presentation of the "TSNA Bench Memorial," in Pigeon Forge, TN.
The "TSNA Bench Memorial," is revealed.
The plaque in front of the "TSNA Bench Memorial."
The TSNA Members on the bus at the Leconte "Bench Dedication."
Real moonshine can be purchased legally in Tennessee.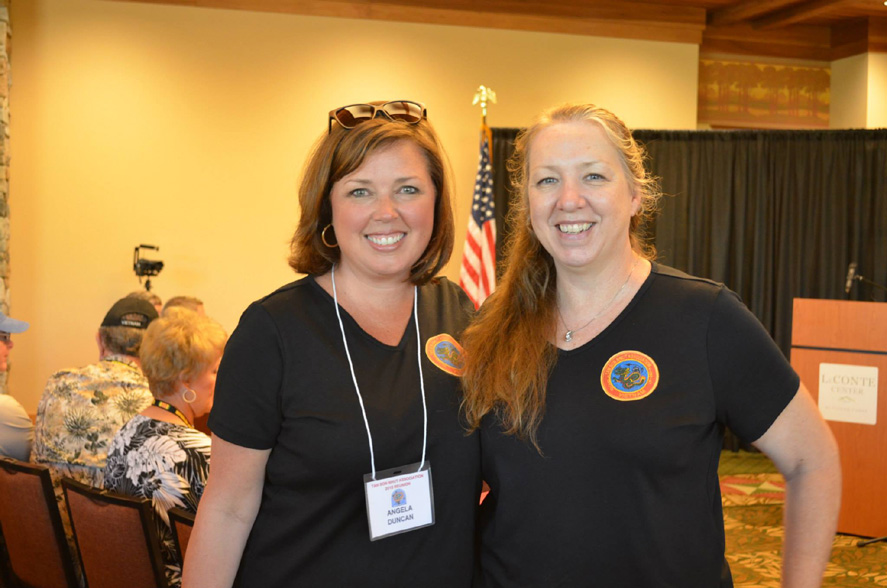 In each photograph above L-R: Angela Duncan and Gabriella Grant.
George Bontya, has his book, "We Were Soldiers Once and Young" signed by the co-author, Joe Galloway.
Sharon Jernigan, has her book, "We Were Soldiers Once and Young" signed by the co-author, Joe Galloway.
The "Missing Man Table," presented by Lois Fry, Larry Fry, Jimmy Smith, Johnnie Jernigan and Sharon Jernigan.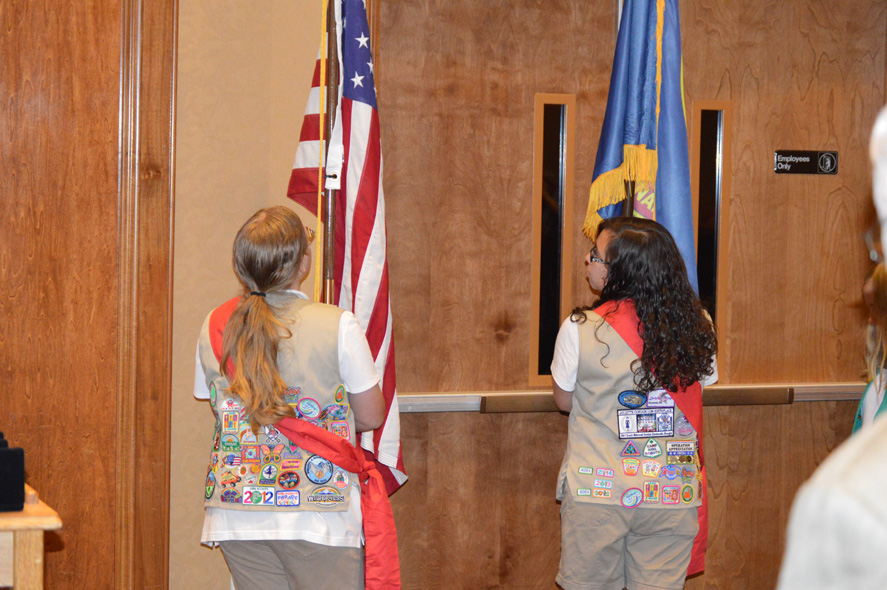 Girl Scouts posting of the colors.
The tablecloth is white, symbolizing the purity of their intensions in responding to their country's call so their children and yours, could remain free.
The single candle symbolizes the frailty of one individual - alone, against his oppressors.

The black ribbon on the candle reminds us of those who will not be coming home.
The flame signifies the memories, still burning, in the hearts and lives of those left behind.

The single rose, in the vase, reminds us of the families and loved ones that keep the faith, awaiting their return.
The rose itself is red, signifying the blood shed by our comrades in the defense of freedom.
The red white and blue ribbon represents the flag of our country and is tied to the vase by a yellow ribbon, reminiscent of the ribbons worn on the lapel and breasts of thousands who bear witness to their unyielding determination to demand return proper accounting of our missing and for the safe return of those held hostage or engaged in our defense.
The place setting is for one but represents "ALL" who could not be with us.

A slice of lemon is placed on the plate to remind of their bitter fate.
There is salt on the plate, symbolic of the family's tears as they wait and remember.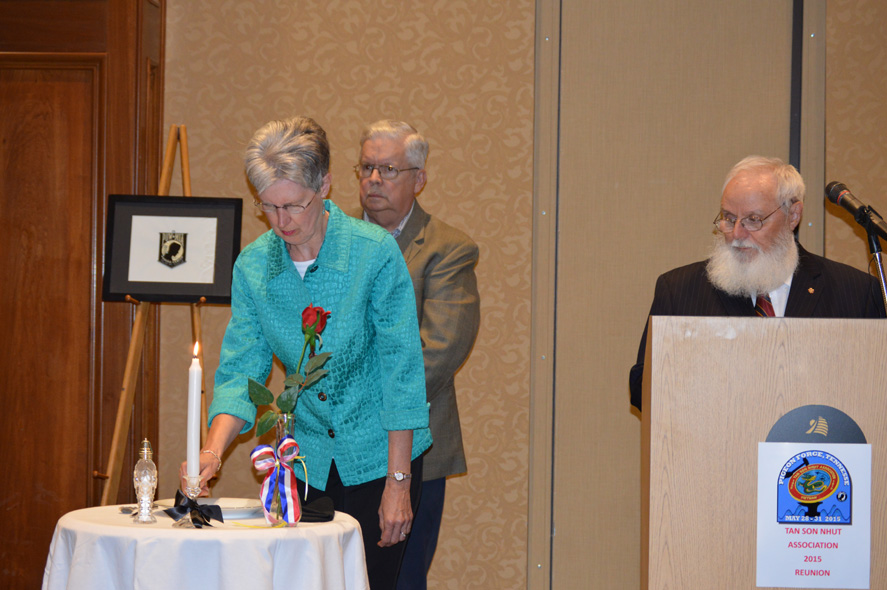 The word "HERO" is written in the grains, because "HERO" is what each man and woman becomes when they serve America.
The glass is inverted to remind us that they will not be here tonight.
A World War II bible is placed on the table.
The picture is a reminder that they are missed very much and are remembered by their family and friends.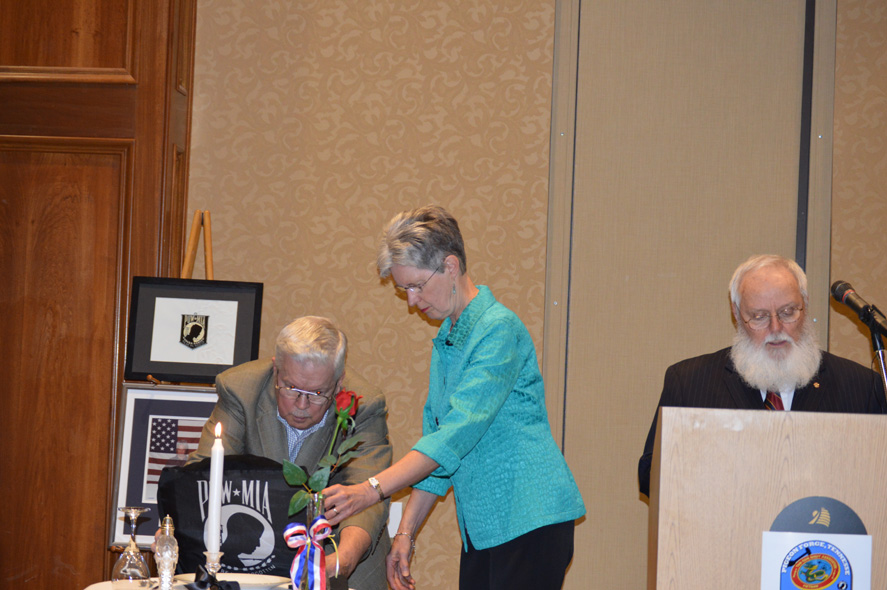 The chair is empty, signifying their absence and our constant hope that they will return to us someday.
It is tilted, to signify that when they do return, there will be and always has been a place set aside for them in our hearts and minds.

As we look upon this empty table, do not remember them as ghosts from the past but remember them as our comrades and friends.

Do not neglect their families but keep them close to your hearts. Please continue to honor those missing from our midst.
TSNA showing final respect to the "Missing Man Table".
Girl Scout, Emily Cardwell, sitting at the banquet table
with Janice Jones and Harold Saden.
Charles and Georgia Gray, in deep discussion with Mr Parella.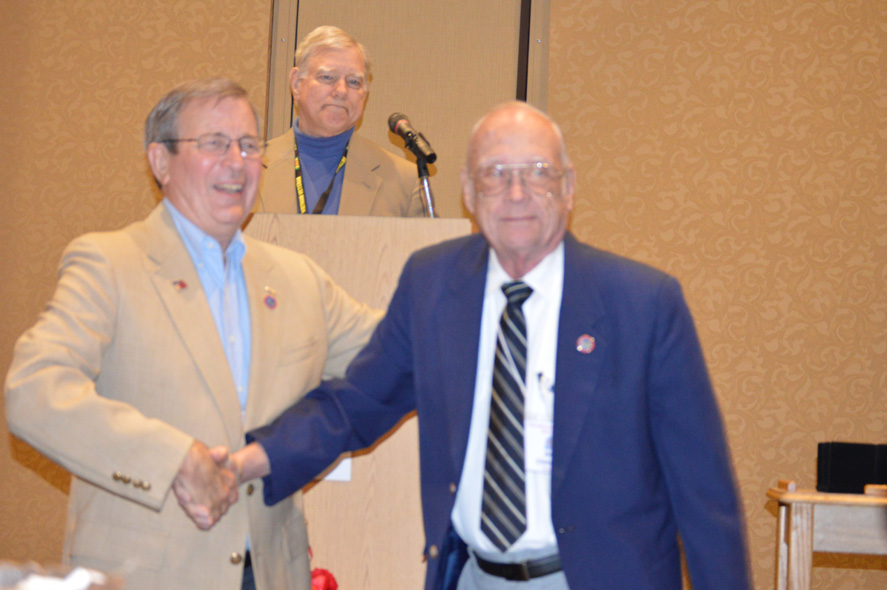 Chaplain Bob Chaffee, receives the
Supreme Military Order of the Dragon.
TSNA President, George Plunkett, receives
the Supreme Military Order of the Dragon.
Bill Coup, receives the Military Order of the Dragon.
Kerry Nivens, receives the Military Order of the Dragon.
Michelle Peele, receives the Anchor Award.
Trish Plunkett, receives the Golden Knight Award.
Dr Gracie Liem Galloway, receives the Golden Knight Award.
A new award, in honor of President Emeritus, Don Parker,
known as the "Boots on the Ground."

TSNA President George Plunkett, is the recipient of the first award.
Just one of the beverages served in the hospitality suite.
TSNA "Life Member" Janice Jones, mans a portion of the hospitality room.
Sue Ellen Carnahan Parker, made this quilt.

It shows all of the locations that the TSNA Reunions were held.

It brought in $245.00 to the TSNA.